Saga Norén's Porsche from the hit show Bron/Broen offered for Charity at Bonhams Festival of Speed Sale
One of the most widely-discussed cars of recent TV history, the 1977 Porsche 911S from hit Scandi-noir series The Bridge, is to be offered at Bonhams Festival of Speed Sale on 13 July at Goodwood, with proceeds going to international charity WaterAid courtesy of the producers of the hit series, Filmlance, part of Endemol Shine Group, and Nimbus Films.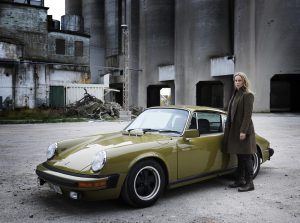 It was introduced in the first series of the show, known as Bron/Broen in Sweden and Denmark, and is driven by the show's main protagonist, the beautiful and enigmatic homicide detective Saga Norén. Her exotic choice of car always aroused jealousy among her co-workers at the Malmö police station and fuelled rumours surrounding the mysterious Norén's past.
The fourth and final series of the critically acclaimed Swedish/Danish language drama The Bridge is currently airing on BBC Two.
Proceeds of the sale are donated to WaterAid by Filmlance International and Nimbus Film in association with SVT, DR, ZDF German Television Network, ZDF Enterprises, Film i Skåne, NRK, Copenhagen Film Fund, Lumiere Group, Stiftelsen Ystad-Österlen Filmfond. with support from Nordvision and in co-operation with Malmö Stad.
The car will be offered at Bonhams Goodwood Festival of Speed Sale on 13 July.