Four new BECK films in production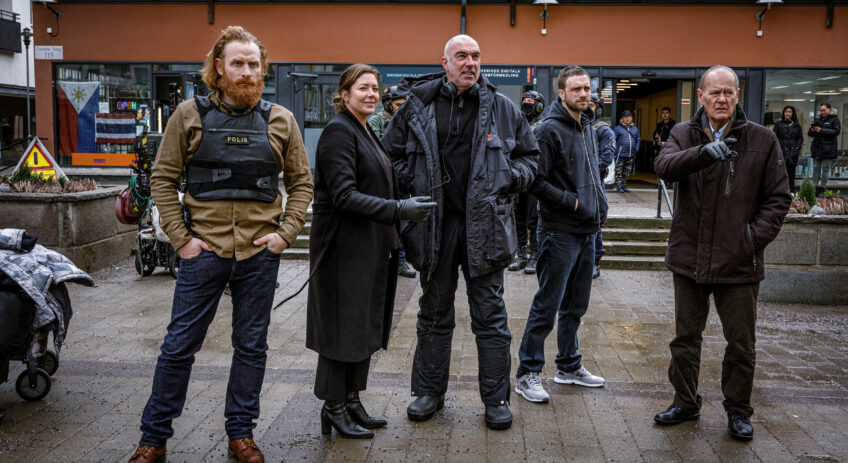 The shooting of four new Beck films, number 47-50, started recently. Beck, who this year celebrates 25 years, continues to be a huge viewer success.
In the upcoming films, Martin Beck wrestles not only with increasingly challenging murder cases but also internal strife. At the same time, he is affected on a more personal level when his grandson Vilhelm Beck ends up in the middle of the action.
The films 47-50 are a direct sequel where we left the Beck team last and under the direction of Alex Beijer, the Beck team is the same; Oskar, Jenny, Ayda, Steinar and Josef. The police unit works closely and efficiently together, but there are clouds of unrest. Has Alex come to terms with her past? Does Josef fit into the group? Can Steinar contribute when they need him the most? And the newly appointed Säpo chief Klas Fredén continues to appear where he is not supposed to and gets involved in investigations that he has nothing to do with.
Beck-filmerna bygger på författarparet Maj Sjöwall och Per Wahlöös karaktär och deckarsvit om Martin Beck. För regi står Pontus Klänge och Niklas Ohlson. Peter Arrhenius, Dennis Magnusson, Annika Sandahl, Ronnie Sandahl och Johan Bogaeus har skrivit manus. Manusredaktör är Fredrik Agetoft. Filmerna produceras av Francy Suntinger på Filmlance International, som är en del av Banijay. Niva Westlin Dahl är exekutiv producent för projektet på C More och TV4 och Hanne Palmquist är exekutiv producent för Filmlance International. Beck är en samproduktion mellan C More, TV4, Filmlance och Nordisk Film Production i samarbete med ZDF, DR, TV2 Norge, Nordisk Film Distribution och Banijay Rights.  Beck distribueras internationellt av Banijay Rights.
The Beck films are based on Maj Sjöwall and Per Wahlöö's characters and detective story about Martin Beck. Directed by Pontus Klänge and Niklas Ohlson. Peter Arrhenius, Dennis Magnusson, Annika Sandahl, Ronnie Sandahl and Johan Bogaeus have written the scripts. Script editor is Fredrik Agetoft. The films are produced by Francy Suntinger at Filmlance International, which is part of Banijay. Niva Westlin Dahl is executive producer at C More and TV4 and Hanne Palmquist is executive producer at Filmlance International. Beck is a co-production between C More, TV4, Filmlance and Nordisk Film Production in collaboration with ZDF, DR, TV2 Norway, Nordisk Film Distribution and Banijay Rights. Beck is distributed internationally by Banijay Rights.