BECK – The Death Trap premieres on C More Christmas Day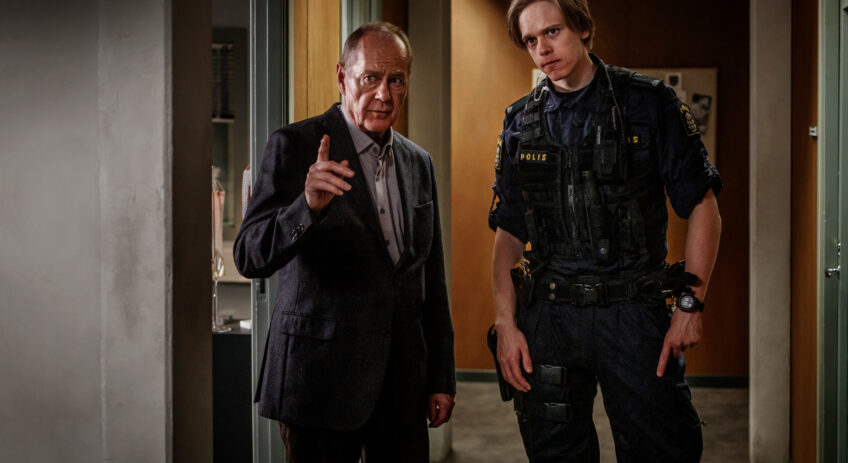 On December 25, Beck – The Death Trap premieres on C More. It is the 47th film in a row, and after a raucous youth party in a residential area outside Stockholm, one of the party-goers is found dead. The body is found by Vilhelm (Valter Skarsgård), who is a police aspirant and on his first internship. It will be a very traumatic event for Vilhelm. Alex (Jennie Silfverhjelm), who is his mentor, assumes a heavy role in guiding and restraining Vilhelm in the upcoming investigation.
– It feels incredibly fun to be able to give all Beck fans a new film as a Christmas present. Alex Beijer gets a somewhat off-the-cuff resource in the investigation, which sets it up for some others, and even for herself… Overall, I think all the characters have been deepened, our stories have been honed, and I think Beck is about to enter a new era, which feels very exciting. With Valter Skarsgård on board, a new dynamic has been created in Beck, which I think will contribute to even more people wanting to see the films, says Jennie Silfverhjelm.
In BECK – The Death Trap, Vilhelm Beck is a police aspirant and on his first internship in the real world. He and his supervisor Trine (Maria Sundbom Lörelius) are routinely called to a burglary. At the crime scene, Vilhelm is the one who discovers a dead 17-year-old boy and the mission goes directly to the Beck group. Vilhelm feels deeply affected by the situation. He wants to contribute to the investigation more than what his supervisor says is ok, which leads to unforeseen consequences. The dead boy's father is distraught and has no idea what his son may have been involved in.
Martin Beck (Peter Haber) would like to be involved in Vilhelm's aspirant period, but Vilhelm asks his grandfather to take a step back. Alex (Jennie Silfverhjelm) is also committed to Vilhelm and wants to support him. Jenny (Anna Asp) is a new mother and struggles with both her relationship and parental role. Both Martin and Oskar (Måns Nathanaelson) want to do everything to support her when she makes a fatal mistake that turns out to have really serious consequences.
Other roles include Martin Wallström, Ingvar Hirdwall, Elmira Arikan, Jonas Karlsson, and Rebecka Hemse.
Beck – The Death Trap is based on the author couple Maj Sjöwall and Per Wahlöö's character and detective series about Martin Beck. The producer is Francy Suntinger at Filmlance International, which is part of Banijay. The director is Niklas Ohlson. Peter Arrhenius is responsible for the idea and script. Development producer is Fredrik Agetoft. Niva Westlin Dahl is executive producer at C More and TV4. Beck is a co-production between C More, TV4, Filmlance and Nordisk Film Production in collaboration with ZDF, DR, TV2 Norge, Nordisk Film Distribution and Banijay Rights. Beck is distributed internationally by Banijay Rights.