Johan Ulveson plays the iconc role of Skalle-Per in Ronja the Robber's Daughter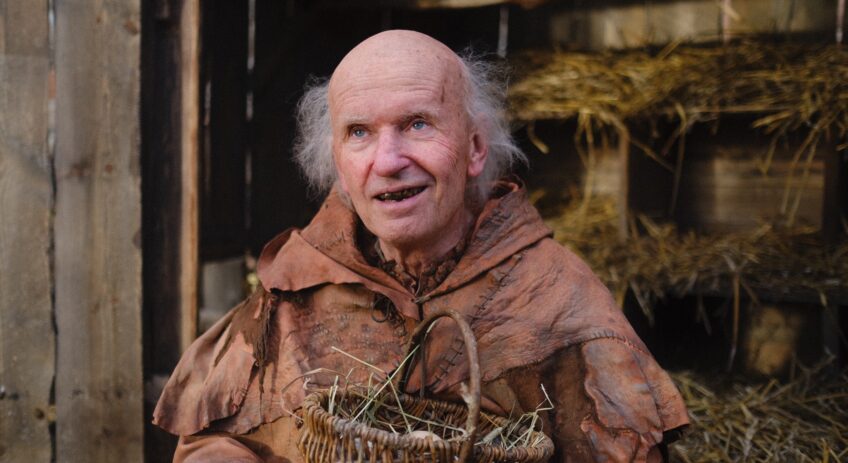 Johan Ulveson plays the iconic role of Skalle-Per in Ronja the Robber's Daughter.  Added to the already star-studded cast is Pernilla August, who plays the completely new role in the series as the mayor Valdir. In addition, Vera Vitali plays the vengeful bailiff Cappa. The series about Astrid Lindgren's independent robber daughter Ronja premieres at the end of next year on Viaplay.
The shooting of the Astrid Lindgren classic Ronja the Robber's Daughter are in full swing. In various places around Sweden, curious Ronja fans have been able to glimpse actors in medieval clothing, majestic horses and listen to echoing spring cries.
When Viaplay announced earlier last autumn that Kerstin Linden had been given the coveted role of Ronja and Jack Bergenholtz Henriksson the role of the friend Birk, the news attracted a lot of attention. Now more names are presented in the already star-studded cast with Christopher Wagelin (Mattis), Sverrir Gudnason (Borka), Krista Kosonen (Lovis) and Maria Nohra (Undis). The role of Matti's oldest and wisest robber Skalle-Per is played by the actor and comedian Johan Ulveson.
– There was no doubt about accepting the role of Skalle-Per. It's a bit special to play a character that many people have an image of how he should be. It feels good that there is interest and anticipation, a little extra festive as well. But when the shooting starts, I will think about other people's expectations as little as possible, says Johan Ulveson.
Johan Ulveson emphasizes that the transformation into the bald and elderly robber will be both an inner and outer journey.
– The most important transformation comes from within, but our skilled makeup artists will of course have a large part in the final result. It will be early mornings in the make-up, says Johan Ulveson.
In addition to Johan Ulveson's participation in Ronja Rövardotter, Pernilla August is also part of the ensemble in a completely new role as the mayor Valdir. Pernilla herself has a strong connection to the Astrid Lindgren classic.
– Of course, Ronja Rövardotter was both read and watched at home, so that story is very close to my heart and it is with great pleasure that I take on one of the characters in this story. I am very much looking forward to being part of a saga that will hopefully be watched by my grandchildren and their children. Ronja is constantly relevant and an inspiration, she goes her own way and "doesn't fit in" and that's good, more role models like that are needed now, says Pernilla August.
On her side, the mayor Valdir has, among other things, the stubborn and vengeful bailiff Cappa, a character embroidered from the book and played by Vera Vitali.
– It feels very exciting to be part of this project. As an actor, getting to enter Ronja the Robber's Daughter's world is a favor and an exciting challenge. The role I play is different from anything I've done before and I feel full confidence in the team behind and in front of the camera, says Vera Vitali.
The Mattisborgen robber gang includes Per Lasson (Sturkas), Mattias Silvell (Joen), David Wiberg (Jutis), Lancelot Ncube (Tjegge), Omid Khansari (Fjosok), Björn Elgerd (Tjorm), Nils Kärnekull (Lill-Klippen), Linus Eklund Adolphson (Pelje), Isa Aouifia (Turre), John Alexander Eriksson (Knotas) and Kim Kold (Labbas).
Among others, Logi Tulinius (Ulv), Joakim Nätterqvist (Dockas) and Fredrik Alfredsson (Björn) can be seen in Borka's band of robbers.
The Swedish-language series in twelve episodes, divided into two seasons, is written by Bron creator Hans Rosenfeldt and premieres exclusively on Viaplay at the end of next year.
The first season is directed by Lisa James Larsson (Victoria, A royal affair). Producers are Bonnie Skoog Feeney (There are no feelings in space) and Mattias Arehn (Björnstad) for Filmlance International. Sara Askelöf is executive producer at Viaplay Group, Hanne Palmquist executive producer at Filmlance International AB, part of Banijay, and Johan Palmberg executive producer at Astrid Lindgren Aktiebolag. The series is a co-production with Film i Väst.