Katarina Ekstedt & Anna Winberg Sääf's book NORD becomes drama series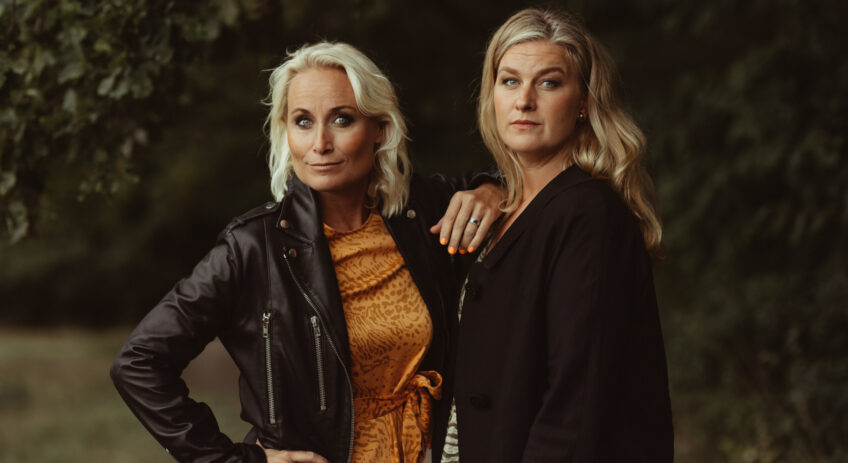 Filmlance International AB, part of Banijay, has acquired the rights to Katarina Ekstedt and Anna Winberg Sääf's psychological thriller NORD, which will now become a drama series. Johanne Algren will write the script. NORD is about power games, sex and lies but also a lot about food.
NORD will become a drama series and will be produced by Karl Fredrik Ulfung and Tomas Michaelsson at Filmlance. Karl Fredrik most recently produced the box office hit Lust for HBO and Tomas Michaelsson has previously produced the critically acclaimed drama series Kalifat for SVT and the cinema film Spring Uje spring.
Danish screenwriter Johanne Algren is responsible for the script. Her credits include the feature film Holiday, for which she was nominated for a Robert Award for Best Original Screenplay, the Robert-nominated drama series Kamikaze for HBO and Copenhagen Cowboys for Netflix.
After a fateful teenage accident, Alex finds himself alone, unemployed and with his self-esteem at rock bottom. When he receives an offer that seems too good to be true, he doesn't hesitate for a second. It's a coveted job as Commis de Cuisine, kitchen assistant, at the world-famous star restaurant NORD in Åre. But it's not long before the work in the restaurant kitchen is replaced by a web of lies, sex and threats.
"Sääf/Ekstedt's page-turner NORD with its dangerous relationships and power games at a star restaurant in the mountains caught our attention immediately. Developing the NORD universe with its complex characters into a high quality and exciting TV series is a fantastic opportunity. And to be able to do it in a restaurant environment where fabulous food will be cooked during the filming means that we will put on a few kilos. Together with scriptwriter Johanne Algren, we are convinced that we can create an international success that will keep viewers on their toes." said Karl Fredrik Ulfung and Tomas Michaelsson, producers at Filmlance.
NORD is author duo Katarina Ekstedt & Anna Winberg Sääf's first joint suspense novel. The sequel, Syd, will be released on June 7. Katarina Ekstedt (b. 1976) is a publishing manager and author living in Stockholm. She has previously written several acclaimed novels for children and young people. Anna Winberg Sääf (born 1984) is a Swedish author and lecturer who lives on Öland. She has previously written several popular novels and was appointed Regional Author of Kalmar County in 2021.
Katarina Ekstedt is married to star chef Niklas Ekstedt, who has restaurants in Stockholm and London, and brings knowledge of the drama that takes place behind the fine dining scene. Niklas, who has appeared on several international TV shows, including Netflix's Crazy Delicious and the BBC's Saturday Kitchen, is seen here cooking one of the dishes from the book at Nord: https://www.youtube.com/watch?v=TFhNQC2yWKI.
"It feels extremely exciting and at the same time unreal that Nord is now becoming a drama series. We could not have wished for a better partner in this collaboration than Filmlance and their fantastic employees, who have worked on so many great productions. It's extra fun that all the readers who have contacted us after reading the book can now look forward to meeting Alex, Alice and the other characters in the TV version, we know that many people are looking forward to it.", says Anna Winberg Sääf and Katarina Ekstedt.
NORD has sold 40,000 copies.
About Filmlance International AB
Filmlance International was founded in 1988 and is today one of Scandinavia's largest production companies. For the past thirty years, the company has produced critically and publicly acclaimed drama series and feature films for cinema, TV and streaming. The company produces high quality drama entertainment for a wide audience and its productions include the international success Bron, which has been sold to over 180 countries, the Swedish streaming success Kalifat, all the Beck and Morden i Sandhamn films as well as series such as Jens Lapidus Top Dog and Fredrik Backman's Björnstad and feature films such as Vinterviken based on Mats Wahl's book and Eva & Adam. Filmlance is part of Banijay.
For further information:
Annmari Bergmark, Press Officer Filmlance International
Annmari.bergmark@filmlance.se, 08-459 73 80